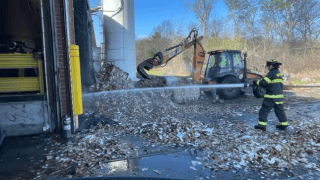 Firefighters extinguished a fire at a packaging plant in Wakefield, Massachusetts, on Thursday morning.
Fire officials said they responded to a report of a fire at the WestRock Co. industrial complex on Audubon Road shortly after 6 a.m. Thursday. When they arrived, they found the fire in the rear loading dock of the building. They called in additional manpower and were able to put out the fire.
No employees or firefighters were injured, officials said.
Fire officials said the plant will resume operations once the cleanup is completed.
Preliminary investigation is that the fire was accidental, but the cause remains under investigation.
Firefighters from Reading, Stoneham, Melrose and North Reading also responded to the scene, with Saugus, Lynnfield and Woburn providing station coverage.