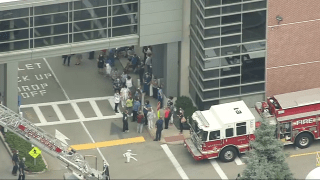 Smoke backed up in a cancer center at South Shore Hospital in Weymouth, Massachusetts, Monday, causing the building's evacuation and bringing out firefighters.
The incident was caused by an air handler at the Dana-Farber Brigham and Women's Cancer Center about 11:30 a.m., South Shore Health said.
People were seen outside the building Monday as Weymouth firefighters set up a ladder to an upper floor.
Patients and staff at the cancer center were being evaluated after the incident, but no one was initially said to be injured.