It's hard to believe snow is on the way given how our Friday is unfolding in New England – and for some, it won't be much snow that falls, but for others, nature will pull a rabbit out of a hat for over half a foot of snow.
Of course, it's not magic – in this case, it's dry air: when air is dry – measured as low dew point temperatures in meteorology – it can cool effectively at night, or when moisture is added. Friday night, we'll do both. Moisture will advance into New England during the overnight, cooling temperatures from daytime highs around and just over 40 degrees to either side of freezing.
Rain and Snow to Begin Friday Night
At first, a couple of degrees either side of freezing won't make a huge difference, and a combination of rain and snow developing from southwest to northeast across southern New England between 8 p.m. and midnight will swing to snow at least briefly in most spots, excepting perhaps the immediate South Coast.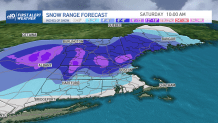 Snowfall Totals in New England
Local
In-depth news coverage of the Greater Boston Area.
Snow will quickly change to rain for extreme southern New England and the immediate South Shore of Massachusetts, with a slowly strengthening east and southeast wind off the ocean, but a burst of a couple inches of accumulation is likely just inland from the coast. The further inland one is, the colder temperatures will be and the more snow that will fall before sleet and rain mix in, with spots like north-central Massachusetts to the Berkshires points northward seeing mostly snow and picking up over half a foot of snow.
Our First Alert Team believes even the Interstate 495 belt northwest of Boston may approach or exceed half of foot of snow, with only about 15 miles separating a forecast of 2 to 4 inches along the North Shore from 6 to 8 inches in the Merrimack Valley!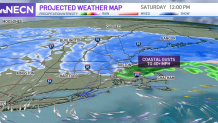 Of course, with temperatures so marginal and such tight margins, our team is preparing viewers for a possible surprise either way if that rain/snow line jogs one way or the other, but our forecast is always what we believe to be the most likely scenario.
Wind Gusts and Chance for Power Outages
Wind gusts will increase from the east and northeast Saturday, topping 40 mph along the coast from mid-morning through mid-afternoon, with Cape Cod exceeding 50 mph by afternoon!
With a change to rain in coastal communities, widespread power outages aren't expected from this wind, but isolated outages will result. Coastal Maine is a different situation – strong gusts will combine with heavy snow for near-blizzard conditions Saturday morning to midday, making travel disorienting.
Looking Ahead Past the Wintry Storm
By Saturday afternoon, gusty wind will continue at the coast but the worst will have passed and precipitation will steadily taper, ending last in Maine Saturday evening. Sunday looks far quieter with clouds and sun yielding a few afternoon snow showers in the mountains and flurries elsewhere, previewing a bright and quiet day Monday.
Next week, our exclusive First Alert forecast delivers two disturbances – one with rain and snow showers Tuesday and another Friday into Saturday that may prove to be more organized.