Winter's chill is evident across New England on Wednesday, but it is on borrowed time – set to stick around just long enough to drop snow in spots before retreating for a mild, windswept rain Friday.
Nonetheless, highs in the 30s will feel like the 20s, with a slight northeast breeze Wednesday afternoon that blows gently across the ocean, picking up moisture and carrying it into an otherwise dry and cool air, providing enough of a clash of air not only to fill the eastern Massachusetts sky with clouds but also some flurries from time to time Wednesday midday, afternoon and night.
Elsewhere, variable clouds and cool air keep the weather dry for now, but that will change as the first round of increased atmospheric energy and moisture arrives Thursday, the remnant of one of the recent in a parade of West Coast storms.
As our First Alert Team has been explaining on air and online over the last few days, the steady stream of Pacific storms inherently means a steady stream of Pacific mild and moist air for the country, making a strong northerly wind – usually behind storms – the only option for deep cold air to move south from Canada.
Will Massachusetts get any snow?
In the absence of a prolonged northerly wind, milder-than-normal conditions prevail. So, when one round of atmospheric energy and moisture arrives to New England on Thursday late morning into the afternoon, enough cold air will linger for a combination of snow and rain showers, but the daytime arrival coupled with temperatures above the melting point will eliminate significant impact for most.
From the Berkshires to the Monadnock Region and central New Hampshire around the Lakes Region, the snow showers organize enough late day and evening as the sun sets to drop a coating to an inch of snow and perhaps create some slick spots before inevitably changing to rain with a steady southeast wind overnight Thursday night.
What about power outages?
Even the northern mountains, where 3-6 inches of snow falls Thursday night, will change to rain by Friday morning, when the heaviest shot of downpours and southerly wind moves across New England, gusting winds to 50 mph on Cape Cod and 35-40 mph for most of the remainder of New England: not enough for more than an isolated spot of damage or outages, but the combination of rain and wind will impact the morning commute and slow travel before market improvement in the second half of the day.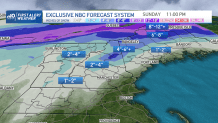 Is there snow in next week's forecast?
Although the bulk of the rain will be gone Saturday, a few showers may still pop up – perhaps a few snow showers in the mountains – but clouds are likely to be plentiful and hold temperatures to near 40 degrees at the warmest time of day.
Sunshine returns Sunday, but comes as a result of dry and cool Canadian air that arrives on a fresh northwest breeze and holds daytime highs in the 30s – likely to repeat Monday – before the recent milder-than-normal pattern returns for midweek with a building chance of rain showers Tuesday night and again Thursday, some of which may fall as light snow in the northern mountains.