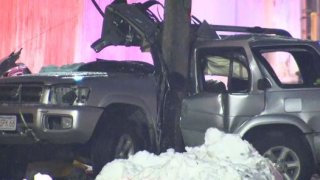 One person has died and several others are in the hospital after a car crashed into a pole in East Boston early Tuesday morning, Boston police said.
Boston EMS responded to scene on Chelsea Street around 1 a.m. Five people were initially reported hospitalized before the Boston Police Department reported the crash was fatal.
No further information was immediately available.
Our redesigned local news and weather app is live! Download it for iOS or Android — and sign up for alerts.