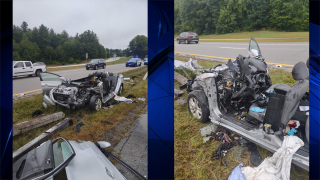 Four people went to the hospital following a crash that involved five vehicles on the Everett Turnpike in Merrimack, New Hampshire, according to emergency officials.
Merrimack Fire Rescue responded to the crash at around 9 a.m. Tuesday, the agency said. First responders arrived on scene to find a Hyundai Sonata in the median, impaled by a guardrail, with the driver trapped inside. Crews worked for 15 minutes to get the driver out, and transport the person to Elliot Hospital in Manchester.
The man has been identified by state police as Sean McConnell, 32, of Manchester. His injuries are life-threatening, according to police.
As a result of the initial crash, large pieces of the guardrail were forced into the northbound side of the highway, causing a multiple vehicle pileup. Three more patients were taken to the hospital, according to Merrimack Fire Rescue. Three others refused to be transported.
Speed appears to have been a factor in the crash, police said, but the investigation is ongoing.
The Everett Turnpike was shut down for about 30 minutes as emergency personnel cleared the highway, at which point one lane in each direction was reopened. Police said the highway didn't fully reopen until three hours after the initial crash.