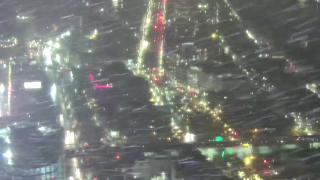 Light snow was falling over some parts of New England on Tuesday during the morning commute, creating the possibility of some slick spots as drivers made their way into work.
The Massachusetts Department of Transportation had 188 pieces of equipment deployed as of 6:20 a.m. Tuesday to help keep the roads clear amid the return of wintry weather. By just before 9 a.m. that number had increased to around 260 pieces of equipment.
In New Hampshire, Windham police shared a photo of a red SUV that crashed into a utility pole, resulting in a road closure Tuesday morning. Snowy conditions were seen in the photo.
Although officials did not say if the weather was a factor, MassDOT reported a crash in Westfield on I-90 at mile marker 38, which shut down the left travel lane around 6:20 a.m. Massachusetts State Police was on scene awaiting a tow at that time.
Meanwhile, a downed wire was causing delays that were up to 30 minutes for riders on the Franklin/Foxboro and Providence/Stoughton lines of the MBTA Commuter Rail. For a period of time, trains on those lines had to bypass the Hyde Park, Ruggles and Back Bay stations. The MBTA did not say what caused the downed catenary wire.