There's no question that Tommy Amaker can coach basketball.
Amaker, the head coach of the Harvard University men's team, has played for, and coached under, Duke legend Mike Krzyzewski. He's helmed major programs at Seton Hall and the University of Michigan. And he's transformed the Crimson from bottom-dweller to Ivy League powerhouse.
But Amaker, 53, says his calling is not only to coach, but teach.
"You can't be a great coach without being a great teacher," he told NBC10 Boston. "To me, the essence of what I do is teaching."
The Virginia native seizes teachable moments to expand his players' horizons, whether it's taking excursions to historical sites during road trips, or talking to them about his former point guard, Jeremy Lin, whose perseverance has made him an NBA star.
Coach Amaker sat down with us recently at Harvard for our Ten Questions with NBC10 series.
Q. On a recent trip to Atlanta, your team had the opportunity to meet with former President Jimmy Carter and visit historical Civil Rights sites, such as Ebenezer Baptist Church, where Dr. King was pastor. What was your takeaway?
A. The three words I embrace so much are "teach," "lead" and "serve." When you're there, you embrace that wholeheartedly: the teachings of Dr. King; the leadership that's necessary from President Carter. The word "service" was such a prominent word throughout the whole trip, given what those iconic individuals have done for our country.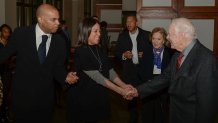 Q. You've said that teaching is more important to you than coaching. How was this instilled in you?
Local
In-depth news coverage of the Greater Boston Area.
A. When you look at any coach or great leader, they're probably great teachers. I know the coaches that I've had through the years -- whether that's Coach K or my high school coach, Coach Jenkins -- they've been my best teachers.
My mother is the greatest teacher I've ever had, she's a longtime school teacher in the public system in the Washington D.C. area, for 50 years. I think of teaching as a form of coaching.
Q. What was the most important lesson you learned from Coach Krzyzewski?
A. To be a great team-builder, you have to have great communication skills and be willing to build great relationships. If I had to pinpoint it, it kind of scales down to two things: His ability to build great teams, but that becomes the essence of communicating and having relationships with all the individuals involved. We're trying to do that here.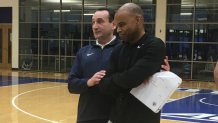 Q. At the time you were hired at Harvard, there were no black head coaches there. How important was that for you to change?
A. I think it was important for Harvard. We have the largest athletic department of any college or university in the country. We've been the largest for quite some time. To have no African American head coaches, [the school] probably need[ed] to take a look at that. I applaud Harvard for wanting to make sure that was going to be addressed.
I was very proud that I was selected as head coach at that time and we have others now -- and that's a very positive sign of the direction of where our institution is going. We've had African American coaches in the past, we just didn't have any at the time I was hired.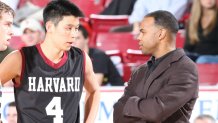 Q. You coached Jeremy Lin at Harvard and he's gone on to a have a successful NBA journey. What's impressed you the most about Jeremy?
A. I think back to his incredible passion for the sport. He loved it -- and loves it -- and that drove him to his preparation and commitment to always wanting to get better.
I'm not surprised at where he is and and what he's accomplished. I'm incredibly proud and pleased but I think with his passion and preparation, I'm most pleased with how he's gone about it, his ability to stay in the NBA and become a cultural icon and such a prominent figure in the world of sports.
Q. You're involved in the Positive Coaching Alliance. Is there a paradigm shift that's occurred in terms of coaches interacting with players?
A. It has changed in terms of communication style. It has to do with respect more than anything. Youth and players today need to know that you respect them. The word "respect" and the word "trust" come hand-in-hand in today's times of coaching. Players need to know there's a level of respect that you have for them, which will gain their trust.
Q. Can the can the paradigm of the "old-school" coach exist in today's basketball world?
A. It probably can if you have the resume that of a Phil Jackson, Gregg Popovich, Nick Saban or Mike Krzyzewski. Even those individuals, I think they recognize times have changed -- and that's the beauty of who they are. They've been able to adapt.
Q. What are your thoughts on what (Boston Celtics coach) Brad Stevens has been able to do?
A. He's a terrific person. He's such a high-character and quality individual and family man and I think his players see and recognize that right away. I think there's a level of respect they have for him for a number of things, but certainly for his preparation to help them get better.
I think he cares, and when you're prepared and care, you gain a level of trust and respect from players.
Q. Your wife is a noted psychologist. Do you pick her brain about basketball matters?
A. I've been incredibly lucky to have her as a partner and a wife. I absolutely try to utilize her skill-set to try to help me in different ways in terms the dynamics of teams and groups, all the things that go into that -- relationships, the layers of egos and things that are right up her alley. I'm first in line when it comes to getting her services... so everyone has to wait behind me (smiles).