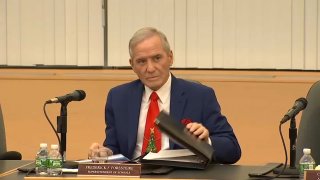 A former Massachusetts school superintendent convicted last week of indecent assault and battery for inappropriately touching an employee in his office pleaded guilty to additional charges this week.
Frederick Foresteire, 79, who led the city of Everett's schools from 1989 until his resignation in 2018 when the assault allegations first came to light, was sentenced on Feb. 9 to 18 months in jail with 90 days to serve and the balance suspended for two years. He must also register as a sex offender.
He was found guilty of indecently assaulting the 41-year-old female victim multiple times in 2017 and 2018.
The victim worked for him at the Everett Public School Administration Building, according to prosecutors. The allegations included that the defendant touched her buttocks on various dates in the School Administration Building where they worked.
The Middlesex District Attorney's Office said Foresteire entered a guilty plea on Wednesday to two additional counts of indecent assault and battery dating back to 2015 involving two other former female employees who he supervised, a then 47-year-old woman and a then 64-year-old woman.
He was sentenced to 18 months in jail on those charges, with that sentence suspended for one year.
Foresteire was placed on leave by the Everett School Committee in September 2018 and announced his retirement several days later.