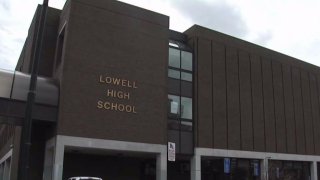 A former athletic trainer at Lowell High School is accused of inappropriately touching two girls at the high school in Lowell, Massachusetts, prosecutors said Friday.
Damon Amato, of Northboro, appeared in court last week to face three charges of indecent assault and battery, according to the Middlesex District Attorney's Office.
The inappropriate contact happened on the student athletes at Lowell High School while Amato worked there, prosecutors alleged. They didn't share more information about what happened.
Amato worked at the school from 2004 to 2022, and allegedly touched the students, both 14-year-old winter track athletes, inappropriately while treating them from injuries, according to The Lowell Sun.
He massaged both girls' rear-ends during the treatment of injuries to their quads, leaving the athletes upset, prosecutors said, according to the newspaper. In the first instance, during the 2017-18 academic year, Amato allegedly straddled the girl and "made a statement about the victim's backside while performing the massage," and in the second instance, during the 2020-21 year, he is accused of pulling down the top of the alleged victim's shorts to expose her buttocks.
Amato pleaded not guilty to the charges, and his attorney in court called him "completely innocent," the Sun reported. He's due back in court Feb. 17.