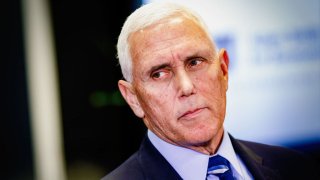 Former Vice President Mike Pence, a possible 2024 Republican presidential contender, is scheduled to make several stops in New Hampshire this week.
Pence is scheduled to be the keynote spaker at the Josiah Bartlett Center for Public Policy's annual Libertas Award Dinner in Concord at 6:30 p.m. Tuesday.
On Wednesday at 11 a.m., he is scheduled to participate in a roundtable discussion at LDI Solutions in Rochester, followed by a stop at the New Hampshire Home Builders Association's Lumber and Lobster networking event in Dover at 5:30 p.m.
Pence was last in New Hampshire in March, speaking at a Cheshire County Republican Committee event in Keene. Before that, he visited in September of 2022 for a unity fundraiser following the state's contested GOP primaries. He also gave a "Politics & Eggs" speech at St. Anselm College in Manchester last August.
His old boss, former President Donald Trump, has visited New Hampshire twice in recent weeks. And Florida Gov. Ron DeSantis, who is expected to announce a run for president in 2024 in the near future, made his first visit to the state last month.
The Republicans already in the 2024 race are Trump, former U.N. Ambassador and South Carolina Gov. Nikki Haley, former Arkansas Gov. Asa Hutchinson and biotech entrepreneur Vivek Ramaswamy. Sen. Tim Scott of South Carolina announced an exploratory committee for a 2024 presidential campaign last month.