An organization pushing for a ban of new fossil fuel infrastructure in Massachusetts attempted to disrupt traffic in Boston during Wednesday morning's rush hour by blocking part of a bridge in the Seaport District and marching through other parts of the city.
The group, which calls itself "Extinction Rebellion", originally planned to block traffic at four different sites, but much of the demonstration wound up at the bridge that connects Boston's Seaport and Financial Districts, after an initial meeting at Post Office Square. Another large group was marching through downtown as of around 9 a.m.
Protesters arrested
Boston police said they made 10 arrests at the climate protests for charges including obstruction of traffic and disorderly conduct. All of them were scheduled to be released on bail and will be arraigned at a later date. The names of those arrested were not eleased.
Additionally, Massachusetts State Police said they arrested five more protesters. The protesters were taken into custody around 7 a.m. on the ramp from Leverett Circle to Interstate 93 in Boston. Boston police had warned drivers that traffic was being diverted at Seaport Boulevard and Atlantic Avenue due to the protesters blocking one side of the bridge there. As of 10 a.m., police said the detour there had been cleared.
Troopers said all five people were arrested in the middle of the roadway. Police also seized two vehicles the trespassers had parked in two separate travel lanes in an effort to block traffic at the busy intersection.
One of those vehicles, a Ford F250 pickup truck, was carrying three 55-gallon streel drum barrels with holes cut into them and pipes running through the holes, state police said. A fourth pipe device was also found that was not fed through the barrels. The devices are known as "sleeping dragons," state police said, a type of improvised device used by protesters to secure themselves together with their arms fed through a pipe or tube that runs through barrels thorugh holes cut into them. Typically, state police said protesters lock hands with the person next to them to form a road block consisting of a connected series of protesters and barrels. State police said the seizure of these devices kept the protesters from chaining themselves together to block traffic.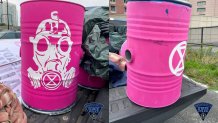 The names of the protesters who were arrested by state police and the charges they are facing were released shortly before noon. They are:
Joseph H. Rogers, 55, of Lyndeborough, New Hampshire.
Grant F. Rockett, 64, of Boston's Jamaica Plain neighborhood.
Mark A. Dugan, 54, of Newton, Massachusetts.
Jennifer M. Smith, 48, of Watertown, Massachusetts.
Mary E. Hansen, 67, of Jamaica Plain.
All five are charged with trespassing on state property, disorderly conduct and conspiracy to commit a crime. Rogers, Rockett and Dugan were scheduled to be arraigned in Boston Municipal Court and Smith and Hansen in Charlestown District Court.
What Is 'Extinction Rebellion'?
Extinction Rebellion describes itself as "a politically non-partisan international movement that uses non-violent direct action to persuade governments to act justly on the Climate and Ecological Emergency." The group's website shows videos of other similar protests it's been involved in.
A news release from Extinction Rebellion said the group would also be at the Interstate 90 off-ramp at intersection of Kneeland Street and Atlantic Avenue.
They have called this the "Week of Rebellion" and asked their supporters to go to Post Office Square in an effort to disrupt the morning rush hour commute at 7 a.m. Wednesday, make noise and urge those in power to stop the fossil fuel industry.
"I'm here because it's a climate emergency," spokesperson Susan Lemont said. "We apologize for the disruption we're causing, but we need to draw attention to this emergency that we're just sleep walking into. The climate is collapsing."
"We must stop new fossil fuel infrastructure, that's the new step. And the green energies come after that," Lemont continued.
A group of protesters was set up on the bridge connecting Boston's Financial and Seaport Districts as of 8:30 a.m., where one of the demonstrators spoke with news media.
"We thought we were going to have a little more leeway," organizer Teddy O'Hea said. "But they heard about it early and we had teams who have already been arrested. They are on their way to detention right now, waiting for our lawyers. We had other groups who arrived at their sites to find police barricades were already in place, so they could not do what they intended. So those folks were great enough to reroute and join us here to bolster this march."
MassDOT sent a tweet to alert Boston area travelers Tuesday evening, saying, "A protest group has notified the media it plans to disrupt travel along several routes in the Boston area Wednesday morning, 9/21, at approximately 7am. Exact locations not yet announced."