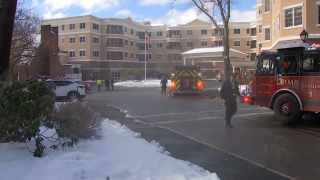 A carbon monoxide leak led to evacuations at a senior living home in Concord, Massachusetts, Wednesday morning, police said.
The leak at Deaconess Abundant Life Communities on Deaconess Road was reported shortly after 7:30 a.m., which led police to shut down traffic to all vehicles in the immediate area besides first responders and people going to nearby Emerson Hospital.
First responders tested the air quality throughout the building and found "highly elevated levels" of carbon monoxide in the basement, the Concord Fire Department said.
Emergency personnel immediately began evacuating residents and taking them to another location on site. A total of 70 residents in all were temporarily relocated.
Two contractors working at the site and two residents of the facility were taken to an area hospital as a precaution.
Additional resources, including the Maynard and Boxborough fire departments, were called in just before 8:30 a.m. to assist with the evacuation effort.
The cause of the leak remains under investigation by the town's plumbing inspector, fire officials said. There is no word yet on when residents will be allowed to return to the building.