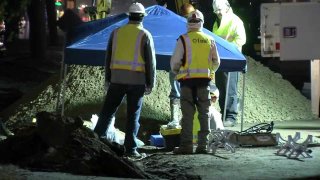 Hundreds of customers were left without natural gas service after a gas line was damaged by a work crew Monday morning in Salem, New Hampshire, police said.
Due to the line being damaged, more than 300 customers were without service in the area of Route 28/Broadway and Route 111 south to Friendship Drive. The area also includes Route 97 and Main Street from Route 28 to Merrill Avenue, police said.
The impacted area, which police say represents a major portion of the city, includes Salem's schools, town hall, senior center and senior housing complex.
Unitil, which is working on the issue, estimated that about 300 customers were without power after the line was damaged by a third-party contractor just after 9 a.m.
The leak happened when an excavator struck a six-inch gas line, police said. It was contained at about 11:30 a.m.
Several homes were evacuated due to the leak but no injuries were reported.
"The affected area that is without gas right now because of the leak and repair is 335 customers, about 165 gas service meters," Salem Fire Chief Larry Best said. "Unitil is on site. They are in town, they have several repair technicians in town to be working on restoration overnight.
Local
In-depth news coverage of the Greater Boston Area.
Repairs began around 6 p.m., Unitil said, at which point technicians will re-light customers' natural gas by going door to door. As of 8 p.m., the repairs were complete, with restorations expected to continue through the night.
"If a customer is not home, we will leave notification at the residence that we can restore their service and a number to reach us. Our team will remain in the area until we have restored service to all affected customers," Unitil Media Relations Manager Alec O'Meara said in a statement.