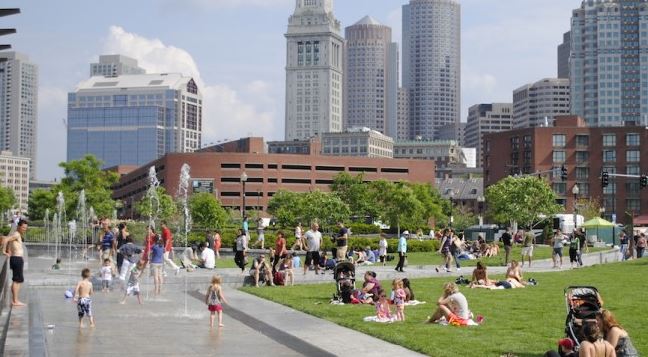 It's a new spring season for Boston's Rose Kennedy Greenway, the 1.5-mile, 17-acre public park that serves as the social backbone for a host of activities throughout the year. This year, as is the park's custom, some 400 free events will take place here, from 100 different fitness classes to a host of festivals, markets and block parties.
Nearly 1.4 million people visited the park last year, setting yet another attendance record (for the ninth straight year, mind you). With more food trucks than ever before, a blossoming public art program and even a seasonal beer garden in the works, there's a lot to catch up on regarding Boston's favorite park.
I asked Michael Nichols, the Rose Kennedy Greenway Conservancy's chief of staff, to fill us in. Not surprisingly, there's a lot to get excited about.
Local
In-depth news coverage of the Greater Boston Area.
Alex Weaver: There are eight new food trucks coming to the rotation starting next week. How important is the food truck program to the Greenway's overall programming?
You should expect a season full of optical illusions and blurred boundaries.
Michael Nichols: The Greenway was one of the first places in Boston to usher in the food truck craze and we continue to provide an excellent platform for entrepreneurial small business owners to try their hand at feeding tens of thousands of hungry Bostonians weekly. We're up to 21 vending spots on The Greenway each day and our team does an amazing job curating a diverse mix of food options throughout the park. (This year we'll debut a seafood truck, a Moroccan fusion truck, and a Latin/Caribbean farm-to-plate offering.) Further, the program has become the Conservancy's largest earned revenue source and is one of the pillars that allows us to bring so many great experiences to the park.
AW: What's this I hear about a 5,000-square-foot "biergarten/wine bar" at the corner of Purchase and High streets? When can I get my al fresco drink on?
MN: Soon! We're in the final stage of a multi-round process that will yield a partner to run what we envision to be a European style biergarten right in the heart of the city. Details are still being hammered out, and we'll still have to go through city permitting, but I expect the space will be open 3-5 days a week from spring to fall and become everyone's favorite place to head after work for a pint and some sunshine. And, of course, we'll have our food trucks on hand in case anyone gets hungry.
AW: Tell me more about this "Blueway" proposal, a potential plaza extended 1,000 feet onto Central Wharf. Should we be getting excited about that?
MN: It's a concept that was put forth by our neighbors, the New England Aquarium. But overall, The Greenway has always been thought to serve as an important role in reconnecting downtown Boston to the waterfront after decades of being divided by the elevated highway. So anything that smartly builds on that progress and works to blend in the surrounding public realm could only be good for downtown Boston.
AW: How might the Greenway's contract with the state, which ends on June 30, affect future programming for the site?
MN: The Conservancy continues to operate the park on a lease with the Massachusetts Department of Transportation, as we have since 2009. Productive conversations continue with the state and other stakeholders about putting The Greenway on a stable, long-term footing that would include a long-term lease. We remain confident of a shared resolution that is good for the park and for the public.
AW: Anything new coming to the Greenway you want to tell our audience about?
MN: The Conservancy is committed to curating and privately funding a rotating mix of contemporary art installations in the park every season (with the support of a number of amazing partner organizations and philanthropic supporters.) This year we'll have our first across-the-board curatorial theme for each of the 8-12 expected public art pieces on The Greenway: Playful Perspectives. Each of the pieces will be interactive works that use forced perspective techniques to trick the mind and encourage the viewer to engage with the artwork in a playful manner. You should expect a season full of optical illusions, blurred boundaries between art and everyday life, and a project or two that I'm certain will become the most Instagrammed spots in Boston this summer!
Images provided.
More BostInno Stories:
Copyright Boston - BostInno