Boston star forward Gordon Hayward was transported to a Boston hospital after suffering a gruesome injury Tuesday night that required him to be carried off the court after just five minutes into his debut with the Celtics.
The team tweeted after Hayward's exit that he had been diagnosed with a fractured left ankle. But head coach Brad Stevens said after the game that he had heard Hayward had suffered a dislocated ankle and a fractured tibia.
NBC Boston was there early Wednesday morning as the Celtics team plane touched down at Hanscom Field. Hayward was transported by ambulance to New England Baptist Hospital for treatment, arriving at the emergency room around 2:18 a.m., and sitting up on a stretcher.
NBC Sports Boston reports from sources that Hayward's fracture was "clean," which would be good news in terms of recovery time.
Hayward's treatment and recovery are unclear at this point, but his teammates and fans are behind him.
Local
In-depth news coverage of the Greater Boston Area.
Hayward, who signed a four-year, $128 million free agent contract this summer, went up for an alley-oop pass and collided with LeBron James midway through the first quarter. He got tangled with James, landing on his left foot and collapsing under the basket. Hayward's left foot was pointing outward. [Warning: Graphic image]
He put his hands to his face and dropped back to the floor as a hush fell over the sellout crowd inside Quicken Loans Arena in Cleveland.
Hayward's new teammates huddled in prayer at their bench as a distressed James covered his mouth and several Cleveland players nearby looked away. Hayward had his leg placed in an air cast, and James came over and consoled him before the 27-year-old was pushed from the floor on a stretcher.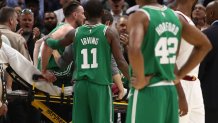 Cleveland's crowd gave Hayward a roaring ovation as he left.
It's a devastating blow for the Celtics, who had hoped to close the gap on the Cavs in the Eastern Conference.
Now, they could be without Hayward for an extended period.
Hayward spent his entire NBA career with the Utah Jazz before signing his long-term deal with the Celtics to play for Brad Stevens, his coach at Butler University. Along with point guard Kyrie Irving, acquired in a trade with the Cavaliers, he is one of the two big-ticket offseason additions that have had Celtics fans excited for the season.
The injury overshadowed Irving's return to Cleveland after the All-Star point guard was traded to Boston this summer.
The Celtics trailed by 16 at halftime, but came back and took the lead in the fourth quarter. In the end, a Kevin Love three-pointer was the difference-maker, and the Cavs won the opener 102-99.
Copyright AP - Associated Press