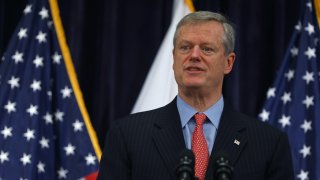 Massachusetts Gov. Charlie Baker announced a new $50 million workforce development program Wednesday that is aimed at helping people get back to work and meeting employers' training needs.
He made the announcement from LabCentral, a Cambridge laboratory space that hosts life science and biotech start-ups. He was joined by Lt. Gov. Karyn Polito and Secretary of Labor and Workforce Development Rosalin Acosta.
"We've made a lot of progress in the Commonwealth over the course of the past couple years," Baker said, noting that there are 580,000 more people working in Massachusetts now than there were two years ago. But he said there are still 200,000 people out of work and 200,000 open jobs.
The new HireNow program will use $50 million in federal American Rescue Plan Act funds to help companies pay for training and hiring bonuses for new employees. Employees would have to stay for the company for at least 60 days for employers to be eligible for the funding.
"Part of our goal here is to use ARPA resources appropriated by the Legislature for workforce and job training to help employers and prospective employees find one another and kick each others' tires and get back to work," Baker said.
"The past two years have been extremely difficult, disruptive, and in many ways demoralizing for a lot of people," the governor added. "I'm hoping this program and others like it... will help people find the tools and possibilities and opportunities that come with employment."
Polito said employers can register for the program starting Wednesday at mass.gov/hirenow.
"This is about meeting the need today," she said.
More Massachusetts stories