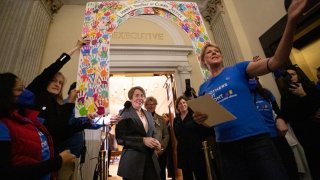 A climate justice group got a last-minute speaker at its State House rally on Wednesday -- Gov. Maura Healey, who told a group of mostly mothers and children outside her office that they were "the first to actually visit me here."
Mothers Out Front had originally planned to meet with Healey's climate chief, Melissa Hoffer, and Energy and Environmental Affairs Secretary Rebecca Tepper before saying yesterday afternoon that the governor would also make an appearance.
Greeted by scores of parents and kids, Healey told the young people they were in "the People's House."
"We work for all of you. And our job is to make sure that we're doing things day in and day out to make life better for you all, for your families. And one of the areas that I am really committed to as governor is making sure that we have the climate that you deserve to grow up in," the Cambridge Democrat said.
The families presented Healey with a letter "asking for Massachusetts to be a leader in creating a livable climate for all children," and unfurled a scroll of signatures that stretched down the corridor from Room 360. There were also cutout tracings of little hands, which Healey said were inscribed with messages "asking us to do the right thing for the climate."
In the letter, activists urged Healey to "stop the runaway construction of dirty energy plants and pipelines," to "say 'no' to utilities' plans to prolong the piping of dangerous gasses," and to "invest in workers, including prioritizing union contracts."
Latasha Hughes Thomasson, who works as an organizer with Mothers Out Front's Worcester branch, talked about her canvassing work and said "all of these hands, and the hands of the governor, will continue that work to make sure that frontline communities are included in every aspect of environmental justice possible."
Local
In-depth news coverage of the Greater Boston Area.
While it's common to see protesters or activists rally outside the governor's office, they are often cordoned off from the governor's office by a rope line and greeted by staff members who receive a letter or message and promise to pass it on to the executive.
Addressing the assembly for more than six minutes, Healey told the crowd that "far too many, for far too long, looked the other way, or allowed richer, more powerful interests to carry the day."
"Know that this team is committed to working with you on moving us forward with a most robust climate agenda," she said. " ... I want Massachusetts to lead the way."
Copyright State House News Service