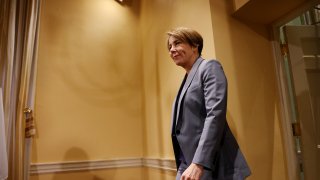 In the first week of her term, Massachusetts Gov. Maura Healey is operating with a Cabinet that's in flux, with holdovers from Charlie Baker's team paired up with just five of Healey's own sworn Cabinet picks.
Healey is eyeing an eventual 12-person Cabinet, and her own picks are in place at Administration and Finance (Matthew Gorzkowicz), Education (Patrick Tutwiler), Energy and Environmental Affairs (Rebecca Tepper), Public Safety and Security (Terrence Reidy) and a new, Cabinet-level role of climate chief (Melissa Hoffer).
As of Monday, Healey had also appointed a transportation secretary, technology services and security secretary and economic development secretary, but her picks for those positions have not yet been sworn in.
Healey spokesperson Karissa Hand said transportation appointee Gina Fiandaca, tech services appointee Jason Snyder and economic development appointee Yvonne Hao would be sworn in later this month to give them time to transition out of their current jobs.
Baker's Transportation Secretary Jamey Tesler will continue stay on during this interim period and Matthew Moran, an assistant secretary at the Executive Office of Technology Services and Security, will be acting technology services and security secretary. Jennifer Maddox, undersecretary at the Department of Housing and Community Development under Baker, is acting economic development secretary until Hao is sworn in on Jan. 17.
Healey also still has two Cabinet positions with acting secretaries where she has not yet named a permanent person to fill the role. Mike Doheny, Baker's undersecretary at the Executive Office of Labor and Workforce Development, is acting labor and workforce development secretary, and former chief of the Health Care and Fair Competition Bureau in the attorney general's office Mary Beckman is acting health and human services secretary.
While her exact plan has not been unveiled, Healey intends to split the housing and economic development secretariat into two in a bid to better address the "housing crisis" in Massachusetts. Though she ran on this idea, Healey has not yet said who she hope will help her lead her housing efforts.
Until the secretariat is divided, Maddox, and Hao after she is sworn in, will serve as housing and economic development secretary, Hand said.
Healey also has not yet named her own veterans' service secretary -- a role that will rise to a Cabinet level position on March 1 under a law passed last year.
For the time being, Baker's secretary Cheryl Lussier Poppe continues to serve in the role, Hand told State House News Service.
"These hiring processes are ongoing," Healey said Friday. She later added, "As with all these appointments, we are working as diligently and expeditiously as possible and then make announcements as soon as soon as we're ready to."
More stories about Maura Healey
Copyright State House News Service