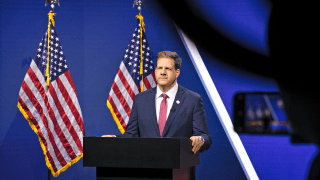 Gov. Chris Sununu said Wednesday that COVID-19 cases continue to surge in New Hampshire and cases are likely to remain high for at least several more weeks.
"We're still unfortunately going to be in this, as predicted, for the next couple weeks until we see hopefully a drop later this winter or in spring," he said.
On Wednesday, New Hampshire reported 1,023 new positive test results for the previous day. The state also announced three new COVID-19 related deaths. The test positivity rate remains high at 17%.
"We continue to have a high level of COVID-19," said Dr. Benjamin Chan, the state epidemiologist.
Since the start of the pandemic, there have now been 267,000 New Hampshire residents with COVID-19 and 2,173 deaths. Over 400 people remain hospitalized.
Sununu also announced Tuesday that 1 million rapid at-home COVID-19 tests will soon be available for sale at state liquor stores for about $13 each.
He said new walk-up fixed testing sites opened this week in Belmont and Lincoln and another will open in Keene next Monday.
New fixed vaccination sites in Salem and Nashua also just opened, and new locations will open in Manchester on Friday and Keene on Monday.
To find a testing or a vaccination site, go to covid19.nh.gov.