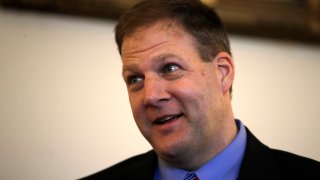 The average daily coronavirus case rates in New Hampshire have risen slightly, but Gov. Chris Sununu said there's no cause for concern at this point.
"We've seen our numbers as a whole and total numbers go up a little bit over last week," the governor said at his press conference Thursday. "But that's expected given that our testing capacity has gone up substantially."
With the state's colleges and universities back in session, he said more asymptomatic cases among students and faculty are being caught.
"Those are, in a way, very positive things," Sununu said.
But he said right now the positive case rate remains around 1%, and it would have to be in the 4% to 6% range before the state would look to take any additional steps.
Local
In-depth news coverage of the Greater Boston Area.
On Thursday, the state Department of Health and Human Services announced 56 new cases of COVID-19. There have now been 7,573 cases of COVID-19 diagnosed in New Hampshire. Several cases are still under investigation.
No new hospitalizations were reported, meaning the total remains at 719. One new death was reported, a woman over 60 years old in Hillsborough County.
Sununu announced Thursday that the state has paid out $81 million to about 57,000 unemployed residents as part of the Lost Wages Supplemental Payment Assistance Program, which funds an extra $300 weekly payment for those who are eligible for at least $100 in weekly unemployment benefits dating back to Aug. 1.
He said New Hampshire was the first state in New England to pay out the unemployment assistance funds.
"Unfortunately, because Congress has yet to act, FEMA won't be able to provide payments for any additional weeks after Sept. 5," Sununu said. "So I guess the message is it's imperative for Congress to get it done, to do their job. It's really imperative that Congress move forward and vote on a plan that allows it. Otherwise, it's simply out of money."