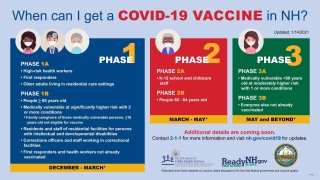 Gov. Chris Sununu provided an update on New Hampshire's COVID-19 vaccination timeline on Thursday afternoon.
The first round, Phase 1A, is now underway, and includes the highest-risk health care workers, first responders and long-term care facility residents and staff.
Phase 1B is expected to begin on Jan. 26. It was originally supposed to include residents who are 75 and up, but that group has now been extended to people 65 and older at the recommendation of the Trump administration.
Also included in this round are those who are medically vulnerable or family and caregivers of children who are medically vulnerable, staff and residents of facilities that serve people with intellectual and developmental disabilities, corrections officers and staff and disproportionately-impacted populations.
Starting Jan. 22, residents who are 65 and up can go to vaccines.nh.gov to register for an appointment. They'll then receive a confirmation email with a link to schedule an appointment. They then just need to show up to the appointment with identification and proof of age.
For those who are medically vulnerable, they will need to contact their doctor, who will notify the state to schedule an appointment, Sununu said. Corrections staff and staff and residents at facilities for individuals with intellectual and developmental disabilities will be contacted directly by the state's public health network to schedule a vaccination.
Sununu said the vaccination of disproportionately-impacted populations will predominantly be done through mobile vaccination clinics beginning Jan. 26, mostly in the Manchester, Concord and Nashua areas.
"We're really trying to make it simple," Sununu said. "We're really making sure no one is left behind in this entire process."
The governor urged people to be patient, saying he knows there will be many questions as the vaccination process moves forward.
"Patience is going to be key," Sununu said. "We can only distribute it and sign folks up as we know the vaccine is coming in."
About 55,000 people have now tested positive for the virus in the state, including 706 new cases reported Thursday. Twelve additional deaths were announced, bringing the total to 897.
The seven-day rolling average of daily new cases in New Hampshire remained stable for the last several weeks at about 750 to 800 new cases a day. The average positivity rate of 7.7% was down from 8.7% the week before.
More New Hampshire coronavirus news