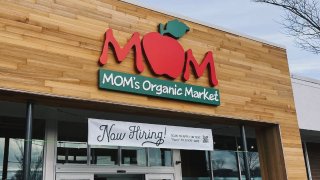 [This story first appeared on Boston Restaurant Talk.]
A group of organic grocery stores will soon be opening its first location in New England, and it will reside in a shopping center in the northern suburbs of Boston.
According to a source (Aron Levy), Mom's Organic Market is planning to open at Burlington Crossroads on Cambridge Street sometime this month, with a Patch article saying that it will sell 100% organic produce along with sustainable seafood, vegan and gluten-free items, teas, herbs, spices, and more. Based on information from the Patch article along with an earlier post from the Daily Times Chronicle, Mom's started out in Maryland in 1987 and currently has more than 20 shops in Maryland, New Jersey, New York, Pennsylvania, Virginia, and Washington, D.C.
The website for Mom's Organic Market can be found at https://momsorganicmarket.com/
Copyright Boston - Boston's Hidden Restaurants