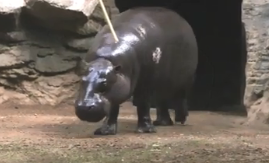 The Franklin Park Zoo proudly announced on Wednesday that Cleopatra, a pygmy hippo is expecting and is due in February!
If all goes well, this will be the first successful birth of pygmy hippo at the Franklin Park Zoo. Back in September, it was discovered via ultrasound that Cleo (as she's affectionately known) was about 4 weeks pregnant. The gestation for a pygmy hippo is six to seven weeks which brings Cleo's due date to roughly late February!
"We have observed the calf moving on the ultrasound and have detected the heartbeat. Due to the wonderful training program between Cleo and her keepers, we are the first ones that have ever been able to monitor a pygmy hippo pregnancy via ultrasound from early gestation," said Dr. Eric Baitchman, Zoo New England Vice President of Animal Health and Conservation.
Local
In-depth news coverage of the Greater Boston Area.
Such exciting news!
Sneak a peak at her ultrasound here!
The post Guess what? Cleopatra the hippo is having a baby! appeared first on Caught In Dot.