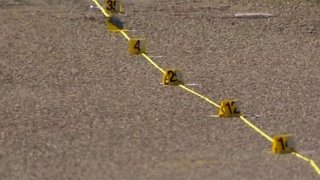 A father and his 19-year-old daughter were out late Friday night riding a motorcycle together when tragedy struck in Hanson, Massachusetts.
James Ripley, 58, and Jenna Ripley, both of Halifax, died after the motorcycle they were on crashed into a pole on Route 58, Plymouth County District Attorney Timothy Cruz announced.
Hanson police received a 911 call around 9:30 p.m. for a report of a motor vehicle crash in the vicinity of 612 Monponsett Street at Hill Road, with a victim lying in the street.
Officers and other emergency personnel responded and found a man -- later identified as James Ripley -- in the roadway. He was rushed to Brockton Hospital where he died from his injuries around 11 p.m., Cruz said.
Authorities also found a female victim at the crash site -- later identified as Jenna Ripley -- who died from her injuries at the scene.
According to Hanson police, James Ripley was driving a Harley Davidson motorcycle with his daughter as his passenger. They were heading south on Monponsett Street when the motorcycle left the road near Hill Road and then hit a pole, killing both.
Authorities did not say what caused the motorcycle to exit the roadway, but the crash does not appear to have involved any other vehicles, the DA said. An investigation is ongoing.