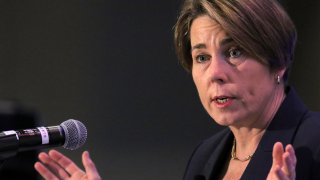 Gov. Maura Healey, who made gun laws a central part of her eight years as attorney general, said Thursday that so-called ghost guns should be banned and that she would support legislation to do that in Massachusetts.
Untraceable ghost guns can be built using parts legally sold in kits by firearm manufacturers and dealers, or from parts created by a 3D printer using templates available online.
Healey said Thursday that these guns without serial numbers "have emerged over the last few years as a really serious issue in states across this country." "We need to ban ghost guns," the governor said on GBH Radio on Thursday.
She added, "We need to do everything we can to get rid of them. And there's legislation filed -- which I support, I supported as attorney general, I will continue to support as governor and I'll make sure that my secretary of public safety and security is doing everything that he can and the team can to work on this issue."
At least two sets of legislation have been filed this session to address ghost guns: HD 352 / SD 1469 from Rep. David Linsky and Sen. Jamie Eldridge and HD 2143 / SD 2031 from Rep. Marjorie Decker and Sen. Cynthia Creem. The Linksy-Eldridge bill would prohibit possession of ghost guns and the manufacturing of a 3D-printed gun without a federal firearms license, and would ban distribution of digital instructions to program a 3D printer to manufacture or produce firearms and some components.
The Decker-Creem bill would make it illegal to "manufacture or assemble, cause to be manufactured or assembled, import, purchase, sell, offer for sale, or transfer ownership of any firearm, rifle, or shotgun that is not imprinted with a valid serial number." "Holding those accountable who are who are trading, who are ordering, who are shipping, who are assembling those very, very dangerous, dangerous products, that's important too," Healey said Thursday.
Last summer, Healey supported the ability of the Bureau of Alcohol, Tobacco and Firearms to trace ghost guns and prevent unqualified individuals from purchasing parts to make their own weapons. She said her office had "prioritized working with our law enforcement partners to get these guns off our streets."
Local
In-depth news coverage of the Greater Boston Area.
As attorney general, Healey drew the ire of Second Amendment advocates and gun owners in 2016 when she heightened her office's enforcement of an assault weapons ban that had been on the books for years by cracking down on copycat assault weapons.
In January, Healey said that much of the gun violence in Massachusetts stems from "a failure to address some of the root causes of violence" and pledged to continue to enforce what she called "some of the strongest gun laws in place."
Copyright State House News Service