With temperatures set to head back in the 90s this week, Boston Mayor Michelle Wu has declared a heat emergency in the city Tuesday through Thursday.
The emergency declaration, issued Monday, will open cooling centers at a dozen Boston Centers for Youth & Families community centers.
See more information on the city's heat emergency, including the list of cooling centers and where the city's splash pads are, at boston.gov/heat.
"We're working quickly to make sure all of our Boston residents and families are protected during this week's extreme weather," Wu said in a release, noting the risk that climate change presents to people in Boston.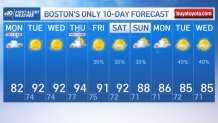 Highs in the 90s are forecast in New England through the week, with more humid air -- especially Thursday when heat index values may be in the 100 to 105 range. Our weather team has issued a First Alert for that day.