What to Know
Snow expands across New England from southwest to northeast, reaching Maine last around late day and evening.
The evening commute will be treacherous owing to heavily falling snow at over one inch per hour and sleet mixing in near the South Coast.
Boston and the remainder of southern New England will see a three to six inch snowfall, while other areas could see more than a foot.
Heavy snow hammered New England during the evening drive Tuesday. Travel was slick, with roads quickly snow-covered due to snow rates around an inch per hour at times.
The snow changed over to a wintry mix across southern New England as the evening progressed.
It will be all snow across the North Country through Wednesday. The wintry mix will become rain in Boston around midnight, while higher elevations in central Massachusetts, western Massachusetts and northern Connecticut will see ice accumulation and some freezing rain through dawn.
The precipitation shuts off during the morning commute Wednesday in the form of rain in Boston and southeastern Massachusetts and a mix across western New England, north through southern Vermont, New Hampshire and coastal Maine.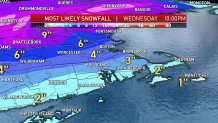 Snow accumulation is done across Boston Tuesday night, with three to six inches having been expected. Higher totals north, and less south due to the mix, then rain. Over a foot is expected across the mountains as snow lingers through Wednesday morning.
Local
In-depth news coverage of the Greater Boston Area.
Some gusty wind is expected during this storm, though not widespread or damaging like in past storms. The breeze will stick around Wednesday and Thursday.
Wednesday afternoon we will break out in some sunshine, but a few spotty snow showers linger around higher elevations with a westerly wind. Temperatures will be in the 40s through Friday.
Valentine's Day will give us some sun and dry weather. Rain moves in Friday, washing away more of the snow from Tuesday. Light wintry mix chances linger in our weekend outlook. High temperatures will be in the low 40s Saturday to mid-30s Sunday.
Monday through Friday of next week we stay active and the forecast becomes uncertain. There are hints of several disturbances, but nothing major until the end of the 10-day forecast, where a larger storm could move through. Temperatures stay in the low 30s Monday through Friday next week.
How Much Snow Will Boston Get? An Hour-by-Hour Breakdown of Tuesday's Snowstorm