Three tornadoes touched down in Massachusetts Monday, the National Weather Service said, the latest severe weather to hit New England as what remains of Henri continues to work its way through the region.
A flash flood watch was also in effect for parts of Massachusetts, New Hampshire, Rhode Island, Vermont and Connecticut Monday night.
The three tornadoes were all small and brief, and didn't cause much damage, according to an early report from the National Weather Service.
All three were rated EF-0 — the weakest on the tornado strength scale. They touched down in Marlboro, Bolton and Stow.
"A small, brief tornado touched down just west of I-495 near the Marlborough Water Treatment Center, went over a business park and traveled northwest a short distance before dissipating just north of Cedar Hill Street," the National Weather Service said of the first tornado. "Several eyewitnesses reported seeing tree branches lofted into the air."
A waterspout was also confirmed on Sunset Lake in Ashburnham, the National Weather Service said, explaining that it does not qualify as a tornado if it does not cause damage on land, leaving the tally at three.
Witnesses in Marlborough captured a funnel cloud on near I-495 on video just before noon – right about the time the NWS confirmed a tornado.
The National Weather Service said it traveled for less than a mile and took down a tree that landed on two cars on Cedar Hill Street.
Moments later, a Bolton Police dashcam recorded another funnel cloud. The National Weather Service reported a few trees were damaged there, too.
One viewer shared her drone video with NBC10 Boston, showing a third funnel cloud in the city of Stow.
The National Weather Service blamed a tornado for the downing of a tall tree near the Stow Police Department, which luckily missed oncoming traffic, landing across Route 117.
The day's first tornado warning was issued around 11:30 a.m., followed by a second less than an hour later. The second tornado warning expired shortly after 1 p.m.
No injuries have been reported.
The tornado warnings came as Henri moved back eastward across southern New England as a remnant swirl of tropical energy generating torrential downpours and localized renewed flooding.
Further south, in Oxford, there was no tornado, but there was certainly a lot of cleanup.
Chad Bilodeau was picking up after Henri's mess. The storm knocked over a tree, landing on his house. He hopes that was the last of it.
"Hopefully, there's not a ton of wind," said Bilodeau. "Especially if it's going to rain and wind, it's not ideal, that's for sure."
Flood watches remain in effect across much of southern and central New England.
Bands of rain have already developed, with some spots already reporting 1 to 3 inches of additional rainfall, and this weather is slowly moving toward eastern New England on Monday afternoon and evening. For many of us it's not raining, but when it does rain, it rains very hard in a very short time, and then the sun can come back out. It's very humid, with high temperatures near 80 degrees.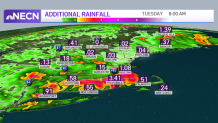 The remnant of Henri should move into Massachusetts Bay and then the Gulf of Maine late Monday night, with continued showers and downpours pushing east overnight.
The last to see rain ending is eastern Maine to Cape Cod late Monday night and first thing Tuesday. Then we get a much brighter Tuesday, with temperatures pushing 90 degrees in a few spots, and continued high humidity.
For mid-week we have a warm to hot high-pressure system slowly moving over New England. There are fronts stalled to our north into our south, but we should be mostly rain free for mid-week.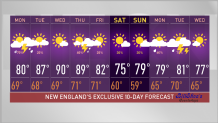 There's a slight chance a few of us could get a heat wave, with temperatures touching 90 degrees Tuesday, Wednesday, and Thursday.
It's very sticky air, and there's a slight chance for a shower or thunderstorm each afternoon.
The most likely time for renewed heavier rain and thunder would be later Thursday and Thursday night as a significant push of cooler and less humid air comes at us for late week and this weekend.
We're optimistic at this point for a brighter weekend with temperatures more comfortable, almost a little bit September-like, and lower humidity, as seen in our First Alert 10-day forecast.