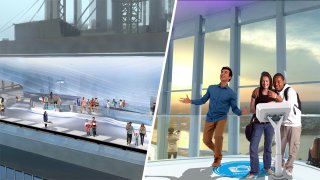 For anyone looking to move to a job at the top of the ladder, new openings offer the chance to work atop Boston's second-tallest building.
The new observatory atop the Prudential Center, View Boston, is set to open later this year, and on Monday, it announced that it's hiring for more than 200 jobs.
Openings include for positions in retail, IT, serving food and in operations, View Boston said.
"View Boston will offer an unparalleled experience to guests - both tourists and locals - and we're looking for talented and motivated individuals to ensure their experience is unforgettable. We are looking for people who are passionate about Boston and can serve as exceptional city ambassadors, willing to go above and beyond for our guests," General Manager Justin Rink said in a statement.
A job fair is being held at the Prudential Center, near Eddie V's restaurant, on May 4-6. More details on View Boston's website.
There's no opening date for the observatory, on the 50th, 51st and 52nd floors of the skyscraper, but it's been long in the works, since the iconic Top of the Hub restaurant and the Skywalk Observatory closed in 2020.
This January, Boston Properties outlined plans for View Boston that include two restaurants, a theater and an outdoor roof deck.