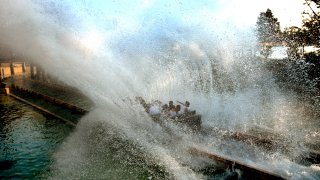 One of New England's most beloved family theme parks is set to open for its 120th season later this month.
Canobie Lake Park in Salem, New Hampshire, will be up and running for the season on Saturday, May 28, with doors set to open at 10:30 a.m.
In order to ride thrills such as the Yankee Cannonball or Boston Tea Party you can enter the park at a general admission rate of $44 through June 30, before the price rises to $54 for the peak summer months.
There are currently no COVID-19 restrictions in place for the 2022 season, though the park is asking anyone who feels unwell to stay home. Unlike last summer, tickets are no longer required to be purchased in advance, though the option is still available for its "Good Any Day" tickets.
Here are the opening dates and summer information for some of New England's other major theme park attractions:
Water Country USA opens Saturday, May 28
New England's largest water park opens over Memorial Day Weekend for a daily entry rate of $29.99 through June 12 before increasing.
Local
In-depth news coverage of the Greater Boston Area.
The park in Portsmouth, New Hampshire, currently has no COVID-19 restrictions.
Water Country has said that the 2022 season will be its longest ever.
Funtown Splashtown opens Saturday, May 28
The venue in Saco, Maine, also opens its doors for the 2022 season over Memorial Day Weekend, with a daily general admission rate of $50.
For the first time, the park will be holding a special 21-plus evening event on Saturday, July 16.
Storyland USA opens Saturday, May 28
Tickets can be bought for the park in Bartlett, New Hampshire, for $29.99 online and $54.99 at the gate.
Nostalgia nights for guests 21 and older are returning this summer as well, on Saturdays in July, from 6 to 10 p.m.
Six Flags New England opening date
Six Flags New England in Agawam, Massachusetts, opened for the season on weekends and select days back on April 9, in time for school spring breaks. Weekday park hours begin after Memorial Day Weekend.
Enhancements for 2022 include Single Rider Lines to select rides as a way to shorten wait times. The rides that will feature the lines include Batman The Dark Knight, Harley Quinn, Spinsanity, and other high-speed attractions.
To adapt to the digital environment, Six Flags New England will also be adding The Flash Pass to mobile phones so guests can view virtual lines from an app on their phones.
And there will be added "Wow" moments throughout the park. This will include more photo opportunities, more seating availability, and interactive themed characters in select rides.
The park also announced new dining opportunities for their guests. There are new dining options from a variety of different cuisines to a new mobile food ordering through the Six Flags App. There will also be two new bars and more picnic tables throughout the park.