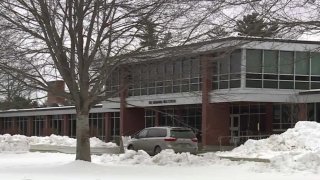 A spate of apparently false reports of shootings at Vermont schools was being reported statewide Wednesday morning, officials said, with the governor calling them "an act of terrorism."
Twenty-one reports of threats were received Wednesday, none of which appeared to credible, officials said. One of the baseless threats specified that two people were shot; no one turned out to be.
The apparent "swatting" calls were coming from phone numbers that were either spoofed or associated with internet accounts, Vermont State Police said in a statement. They "appear to be associated with ongoing nationwide hoax phone threats of school shootings, bomb threats, and other violent events that have proved to be unfounded."
​The governor's office and various state agencies were coordinating as they investigated the calls.
"These calls were a hoax, an act of terrorism designed to create chaos," Gov. Phil Scott said at a news conference, acknowledging that it was an unnerving morning for students, their parents, staff and others.
Public Safety Commissioner Jennifer Morrissey said it was still being investigated if all the calls were identical. She also urged people to continue to take reports of threats seriously going forward, regardless of the spate of hoax calls, in case there's danger.
"We respond to all calls as if they were real. Law enforcement will continue to respond to each incident swiftly and seriously," she said.
Among the hoax calls was Rice Memorial High School in South Burlington. Police there characterized what happened as a "swatting incident." No acts of violence were discovered at Rice Memorial High School in South Burlington, police told NBC affiliate WPTZ, which was reaching out for more information.
The Vermont History Museum in Montpelier was also locked down, according to the Vermont Historical Society.
Also Wednesday, in New Hampshire and across the country, law enforcement was looking into apparently false calls of threats at Walmart stores.