Nine people were injured when a high-speed ferry hit a jetty off Cape Cod and began taking on water on Friday night.
The Coast Guard confirmed that 48 passengers and nine crew members were on board the Iyanough, a Steamship Authority ferry that travels between Nantucket and Hyannis, at the time of the accident. The Coast Guard said it was notified around 10 p.m. that the ferry had crashed at the entrance to Hyannis Harbor and become grounded on the rocks.
According to the Steamship Authority's website, the ferry was scheduled to depart Nantucket at 8:45 p.m. and arrive in Hyannis at 9:45 p.m.
Crews from Coast Guard stations in Woods Hole, Chatham and Brant Point responded to the scene, along with local emergency personnel.
A doctor on board helped a crew from Air Station Cape Cod evacuate five injured passengers by medical helicopter. The air crew also evacuated 10 uninjured passengers who were unable to get paset the slippery rocks. Coast Guard crews helped the rest of the people on the ferry via boat.
By around 3 a.m., all 57 passengers and crew members were off the ferry and safe on land.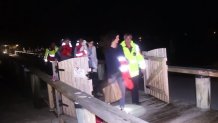 The Steamship Authority says it tested six members of the crew for alcohol, and the results came back negative. The crew will also be tested for drugs.
Local
In-depth news coverage of the Greater Boston Area.
Coast Guard crews will also work with the Steamship Authority to assess the damage to the Iyanough and ensure safe navigation in the area.