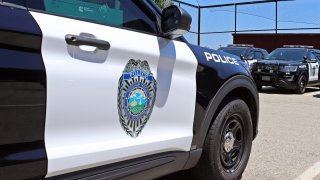 A Hingham, Massachusetts, police officer was arraigned last week on charges connected to an incident last year where he is accused of pulling a gun and yelling racial slurs at a man during a road rage incident.
Joel Salituri, 43, of Stoneham, is charged with assault with a dangerous weapon, the Middlesex District Attorney's Office said Monday.
Prosecutors say the charges stem from an incident that occurred around 5 p.m. on Dec. 26, 2022, when Salituri and another Stoneham man were driving on Interstate 93 north. When both vehicles exited the highway, Salituri allegedly followed the other man until he pulled over into a parking lot on Main Street in Stoneham. They said Salituri then pulled up alongside the other man's vehicle and began yelling at the man and making derogatory statements -- including racial slurs -- while brandishing a firearm. The man said Salituri also told him that he was a police officer.
Salituri was not on duty at the time, the district attorney's office said.
The victim reported the incident to police, and a criminal complaint was issued after probable cause was found at a show cause hearing.
Salituri has been placed on administrative leave by the Hingham Police Department per department policy, the district attorney's office said. He is listed as a traffic division officer on the Hingham police website.
Salituri was arraigned Friday in Woburn District Court. He was released on personal recognizance bail and ordered to stay away from the victim. He is scheduled to return to court on May 24.
Additional charges related to the racial slurs Salituri is alleged to have used are possible, the district attorney's office said.