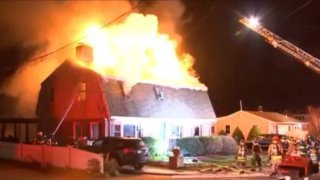 Firefighters put out a fierce house fire that spread to a neighboring building in Ipswich, Massachusetts, Tuesday morning.
The Ipswich Fire Department confirmed they responded to a two-alarm structure fire on Stagehill Road about 1 a.m.
Heavy flames were pouring from the side and back of one home, which was unoccupied, and the siding of another home was on fire as well, the department said. The residents of that building made it outside before firefighters arrived.
They cooled a propane tank which had a release valve come loose, broke open part of the roof and attacked the flames from inside, firefighters said.
Firefighters from Essex, Topsfield, Rowley, Wenham and Manchester-by-the-Sea helped, according to the Ipswich Fire Department.
One the flame was doused, the unoccupied home was found to be a total loss, firefighters said. The other home had exterior damage.
Ipswich firefighters and police are investigating what happened, along with Massachusetts State Police, the Ipswich Fire Department said.