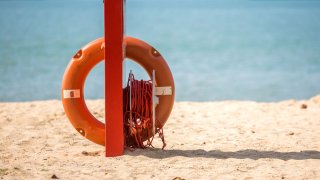 As we count down to the unofficial start of summer, many people are starting to think about getting into the water. And there's a need for more lifeguards, state officials say.
The Massachusetts Department of Conservation and Recreation is putting out an all call for employees. They still have jobs to fill with Memorial Day just days away.
DCR runs 24 pools, 32 beaches and two wading pools in the state and they need staff at all of those locations. While DCR says they will have enough lifeguards and other staff to man those waterfronts this weekend, they still need more for when the water opens up seven days a week next month.
In addition to lifeguards, they need head lifeguards, assistant pool managers, waterfront supervisors and more.
DCR Commissioner Brian Arrigo is calling on young people to apply for these jobs.
"A great opportunity for a great summer job for young people. make good money. spend days outside and ultimately leaders and help save lives," he said.
Anyone over the age of 16 who can swim could be a good candidate. Plus, free training is provided.
Employees could make between 22 and 27 dollars an hour depending on the positions. To sweeten the deal more, DCR is offering a $1,000 bonus for people who stay through the season.