It's hard to believe we're in mid-January and we've had so little snow, but parts of New England saw snowfall Sunday into Monday, and a few inches accumulated, depending on where you live. Duxbury, Massachusetts, was near the top of the list with about 4.5" of snow.
Duxbury resident Amy Abbot was busy with the snowfall Monday, saying she went outside every half hour to clear the driveway.
Snowfall shouldn't be a surprise in January, but this year it seems to be because of winter's slow arrival.
"It's been so warm and lovely I think we all got casual," Abbot said. "This is a good wakeup call, winter is still here."
From Wareham to Somerville to Waltham, the quick bursts of snowfall caught some drivers off guard in a winter where snow has been hard to find so far this season.
"I'm excited, we haven't had snow, I love it, I hope we get more," one woman said.
The snowfall Monday helps out crews like Ieraci Landscaping, keeping them busy, but they'll need a lot more of it in the months to come.
"No snow, rain, can't plow the rain," Kevin Cottens said.
For businesses that depend on hefty snowfall to make it through the winter, this season has been a bust.
"It's very important to get snow to keep us going, you gotta pay the bills, you know?" Cottens added. "You can't pay the bills with rain."
Despite the holiday and fewer cars on the road, the snowfall did make it challenging in some spots.
In Somerville, a single-car rollover crash on Interstate 93 north on Monday morning led to traffic delays. There was no immediate word on any injuries.
In Waltham, a car went off the road on Route 128.
And in Wareham, a FedEx box truck rolled over the guardrail on Route 25. No other vehicles were involved, and the 35-year-old driver was not injured.
A single-car rollover crash Sunday morning in Berkley left a Bristol-Plymouth Regional Technical School student dead.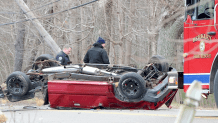 Most roads were manageable though. The biggest problem was all the spray flying up from the roadways meant loading up on more windshield washer fluid.
According to NBC 10 Boston's First Alert team, the trend on roadways should improve by Monday afternoon as the snow turns lighter. Temperatures are also expected to increase to above-freezing, assisting road treatments in turning slush to water on road surfaces.
At one point Monday, the Massachusetts Department of Transpiration had a thousand pieces of equipment working on the roads, treating and plowing.