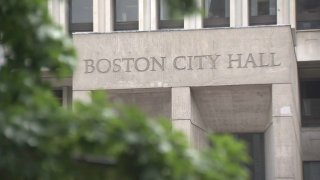 The state's top election official is worried about the pace of the Boston City Council's revived redistricting process, as a May 30 deadline nears to have a new district map in place or risk delaying a city election.
The Boston City Council must redraw the political boundaries of its nine district seats after a federal judge blocked Boston from using its most recent redistricting map in this fall's elections.
Last fall's redistricting process was contentious and drawn out, ending with four of the 13 councilors voting against the map and two councilors challenging it in the courts. Boston Mayor Michelle Wu has said the council must pass a new map by May 30 to avoid delaying the Sept. 12 preliminary election.
But since the judge ordered that the council needs to redraw the map last Monday, councilors have not yet made much progress. A committee meeting on the federal court order scheduled for Tuesday afternoon was canceled late Tuesday morning, after an hours-long and contentious council meeting Monday night.
"I am concerned about the pace at which this process is moving, because any further delay in the adoption of a new city council district map could result in the need to delay the election," Secretary of State William Galvin said about the process on Tuesday. "That isn't fair to the voters, and it would likely cause a great deal of confusion. If this continues to be dragged out and the council doesn't pass a map promptly, it will inevitably lead to the need for a court to draw the district lines, instead of the city council."
With Tuesday afternoon's meeting canceled, the next opportunity for the council to take up the maps is on Friday, according to Dorchester Reporter journalist Gintautas Dumcius. The council will also have its first opportunity on Wednesday to take up a Wu petition to extend candidate filing deadlines from May 23 to June 20. If approved that petition would be sent up Beacon Hill to the State House as a home-rule petition.
Copyright State House News Service