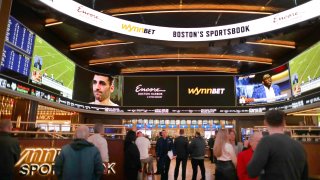 A third incident involving illegal bets on college basketball is soon to be before the Massachusetts Gaming Commission, regulators learned Tuesday as they tried to determine the best way for them to "set the goalposts" as to how they will handle this type of matter with the new industry they now oversee.
The commission revealed last week that Plainridge Park Casino and Encore Boston Harbor accepted illegal bets -- wagers on regular season college basketball games that involved Massachusetts schools -- within the first few days of legal in-person betting in the state.
After a commissioner mentioned during Tuesday morning's meeting that a third incident was soon to be under review, a commission official said that the latest involved bets that MGM Springfield accepted on two Harvard men's basketball games. All three were self-reported violations of the Massachusetts betting law that expressly prohibits betting on in-state collegiate contests in nearly all circumstances.
The Gaming Commission met Tuesday morning to determine how it will proceed with the Plainridge and Encore violations. During their discussion, commissioners said they expected violations like these to occur and said they are mindful that the way they choose to handle these early ones will set an expectation of how they will handle similar cases in the future.
"We've had three of these now in a week and a half's time. I don't know what the volume is going to be, but certainly as we were reviewing operator applications we learned that these are relatively routine -- and I'm not sure if we use the word routine -- but they're relatively routine matters," Commissioner Nakisha Skinner said after the commission got information about similar violations in other states.
There was consensus among commissioners Tuesday to move toward an adjudicatory hearing at which the Investigations and Enforcement Bureau and operators can present information, and the commission could determine any penalties based on the information presented.
"The commission, this early on and as I said earlier in its infancy, needs to set the goalposts," Commissioner Jordan Maynard said. He added, "I want to set the goalposts with my fellow commissioners early on, and then see how it's working. And I know that's going to create a little bit more work on the front end, both for the commissioners and for the IEB ... but I think later on, it's gonna be very beneficial to the entire organization."
More on sports betting in Massachusetts
Copyright State House News Service