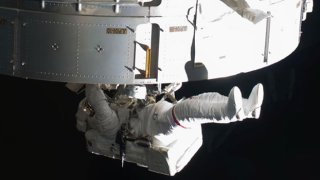 Space Adventure, which bills itself as the largest traveling space exhibit in the U.S., will begin its national tour in the Bay State on Jan. 18.
The 35,000-square-foot exhibit will include over 300 NASA artifacts, including the control panel and counting clock of the Houston Space Center, computers, radios, astronaut suits, cameras, tools and products that were developed exclusively for astronauts while they are in space missions, according to the organizers.
Space Adventure is divided into stages, starting with an immersive, 180-degree video welcoming visitors. They'll then head to the NASA artifact room, then the Houston Control Room replica, which features the original computers from the NASA Space Center.
Space Adventure will be at 121 Webster Ave. in Chelsea from Jan. 18-Feb. 26 on Wednesdays, Thursdays and Sundays from 11 a.m. to 7 p.m. and Fridays and Saturdays from 10 a.m. to 8 p.m.