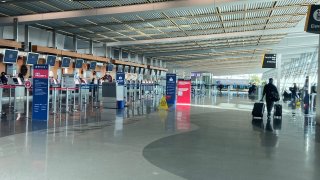 As New Englanders celebrated Christmas Eve, the power grid operator came closer to ordering rolling blackouts than it had in more than four years as several power plants failed to deliver on reserve capacity.
ISO New England imposed penalties of roughly $39 million on power plant operators for failing to provide reserves during a confluence of factors including extreme cold in parts of North America.
"It was not the Christmas Eve that we expected," Matthew Kakley, ISO spokesperson, said Monday.
The power grid operator had to dip into reserves as an Arctic blast swept across a large swath of the U.S. and Canada, necessitating controlled power outages elsewhere, while tens of thousands of New Englanders were in the dark after a powerful wind storm.
Part of the problem was that Quebec cut some of the electricity destined for the U.S. because of extreme cold in the Canadian province, Kakley said.
A "capacity deficiency" declaration at 4:30 p.m. meant there were insufficient reserves, and some power plants responsible for bridging the gap either underperformed or were offline, he said.
With the system maxed, and little safety net, the next step would have been to ask for voluntary conservation measures or rolling blackouts.
But the problem dissipated quickly with the deficiency declaration being lifted in less than three hours as consumer demand dropped during the evening hours, Kakley said.
The last time the situation was so dire was over Labor Day weekend in 2018, when $36 million in penalties were levied, he said.
Privacy rules prevented the power grid operator from publicly identifying the underperforming power plants and their owners, he said.
Power grid rules call for the financial penalties to be distributed among the power plant operators that stepped up to meet demand, he said.
In the end, the Christmas Eve situation in New England was not as extreme as the situation in other parts of the country.
The supply of natural gas, a key energy source for power plants in New England, was not a factor, Kakley said. In fact, heating oil became more economical than gas-fired generation during the period, he said.
More on the Christmas Eve power outages
Copyright AP - Associated Press