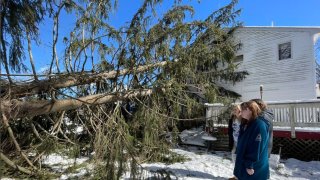 It was a close call Friday when a tree came crashing down on a home in Middleton, Massachusetts.
Stephanie Lodge said she was home on a virtual work call when the tree fell on the apartment around 9:30 a.m. It broke through a window over her daughter, who was in bed.
"I heard the sound of glass shattering and my sister screaming. It felt like an earthquake," Kylie Lodge told NBC10 Boston.
Two other teens were also home at the time, on school vacation.
"I was pretty worked up. It was really scary because I felt like glass hitting my head and arms and stuff," Kylie added.
No one was seriously hurt.
Local
In-depth news coverage of the Greater Boston Area.
I knew it was icy out, I didn't really expect the tree to fall. It didn't seem to be that windy this morning so I was not aware that that was a risk," Kylie's mother Stephanie Lodge said.
Andrew Lobel's tree service was called out to take a look at the tree and provide a quote for removal. He said the weight added by snow combined with the wind likely brought the spruce down. He also noticed signs of damage in the tree trunk.
"Unfortunately you don't see that damage until the tree breaks but it appears there may have been some carpenter ants that have helped the process of the tree breaking," he explained.
The family was told they can stay in the lower level of the house until the tree is removed and the building gets inspected.