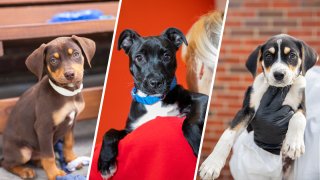 Most people don't need an excuse to celebrate puppies, but for those that do, Thursday is National Puppy Day.
The Animal Rescue League of Boston shared a photos of some of the more than a dozen puppies the nonprofit is currently caring for — along with dogs and other animals from New England and beyond.
Twenty dogs were listed as being up for adoption on the ARL's website as of Thursday morning — see the list on their website.
Puppies Being Cared for by the Animal Rescue League of Boston