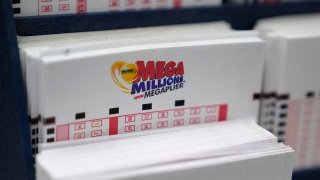 A lottery player won a jackpot prize after buying a Mega Millions ticket at a Greater Boston gas station.
During Tuesday night's drawing for the Mega Millions, a ticket that was sold at a Phillips 66 Gibbs gas station in Woburn hit for an impressive $31 million.
The winning numbers for Tuesday's drawing were 7-9-18-29-39, with a 13 Mega Ball.
The cash option for Tuesday's jackpot is $16.5 million.
The next drawing will be on Friday night, with an estimated jackpot of $20 million.
Last week, a Mega Millions ticket sold in Belchertown won a $31 million jackpot, making this the second time in just the past two weeks that a jackpot prize has been won in the Bay State.