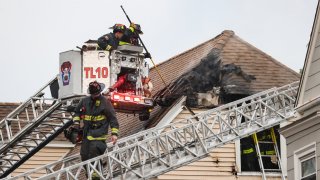 Four people and a dog are displaced after the attic of a building in Jamaica Plain caught fire around 5:30 a.m. Tuesday.
Everyone inside of 41 Cornwall Street evacuated safely, according to the Boston Fire Department. The Red Cross of Massachusetts is helping the residents find housing.
Fire officials are working to determine the cause of the fire, which inflicted approximately $500,000 worth of damage.
No injuries were reported. No further information was immediately available.