Hurricane Jose was downgraded to a Tropical Storm overnight as the system has moved north of the Gulf Stream into cooler ocean waters.
Jose has been gradually expanding and has its strongest convection and strongest winds located on the northwest side of the storm's center of circulation.
This kind of setup is indicative that the storm is quickly transitioning to non-tropical. A disturbance moving out of the Great Lakes, along with a ridge of high pressure nosing into New England out of Quebec, will force Jose to gradually turn northeast away from the East Coast.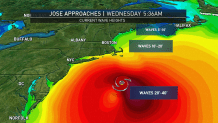 By the end of the week, high pressure will settle in across the region, causing Jose to meander south of the region. Winds will increase during the day, especially along and southeast of the Interstate 95 corridor.
Tropical storm conditions develop across Cape Cod and the Islands this afternoon and evening. Right now, we're expecting 35 to 40 mph wind gusts inland and 40 to 45 mph across eastern Massachusetts and portions of Rhode Island.
On Cape Cod, 45 mph to 55 mph wind gusts are expected, with winds gusting as high as 60 mph on the island of Nantucket. These strong winds are expected to knock down trees and power lines, causing some power outages.
Local
In-depth news coverage of the Greater Boston Area.
Winds aren't the only impact though. Severe beach erosion will occur along the southeast coastlines of Massachusetts, Rhode Island, Cape Cod, the Islands and Block Island later today into Thursday.
Jose may linger offshore, based on current modeling, which could prolong the erosion effect, according to the Massachusetts Emergency Management Agency.

Seas will churn 20 to 25 feet high offshore today with 10 to 15 foot seas closer to the shore. Another important aspect to the storm will be heavy rain.
A Flash Flood Watch remains in effect through Thursday morning across southeast Massachusetts. We're expecting 1 to 3 inches across Cape Cod and Martha's Vineyard, with up to 5 inches across Nantucket. This could cause isolated flooding in some areas with poor drainage. MEMA says this could also lead to flash flooding on Cape Cod.
The Steamship Authority reports that all ferry service for Martha's Vineyard and Nantucket will operate on a trip-by-trip basis today.