Monday's king tide caused minor street flooding in Boston and surrounding areas, prompting some to point out the need for the city to adapt to climate change.
Morrissey Boulevard in Boston was overrun by water on Monday morning, and vehicles driving through could even be seen creating a bit of a wake.
Minor flooding was also seen along the Massachusetts coast: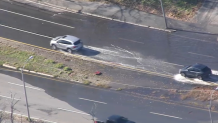 King tides are exceptionally high tides that occur when the Earth, sun, and moon are as close to each other as possible in their relative orbits. Boston's Seaport District has typically experienced flooding during King tides in recent years.
Boston City Councilor Michelle Wu, a mayoral candidate, said on Twitter that the tide was a reminder of the need for a Green New Deal in Boston.