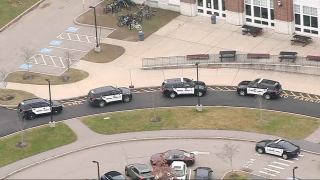 A large police presence responded to a middle school in Milton, Massachusetts, after police received an unfounded report of a person with a gun on Wednesday morning.
Milton police responded to the Pierce Middle School around 9 a.m. after a student reported someone with a gun.
The school and police took the threat seriously and placed the school in lockdown. After an investigation, police determined that it was a misunderstanding and it was actually just a staff member with a phone charger in their pocket.
About 1,000 students attend the middle school.
No further information was immediately available.