After such a soggy and windy week, it was nice to see the sunshine return for our Friday.
However, a potent cold front traversing the Midwest, along with a disturbance in the Caribbean, will be joining together to bring damaging wind gusts along the coastline and heavy rainfall in western New England.
[NATL] Extreme Weather Photos: Record Heat Threatens Europe
As far as timing, the rain could start in western New England as early as midday Sunday as the cold front slides in from the west. At that point, the tropical disturbance in the Caribbean climbs up the eastern seaboard along the front over the course of the day and arrives just to the south of the region by Sunday evening.
The front pulls the system into New England by Sunday night. With the combination of the heavy downpours in western New England associated with the front as well as the strong wind gusts associated with the tropical-like disturbance, this will really pack a punch.
Wind gusts could top out at 40 to 50 mph, with a few higher gusts along the southern coastline of New England, the Cape and Islands and along the Maine coastline Sunday night into Monday morning as the system continues to slide its way northward.
Thankfully, Saturday will be a nice day to secure any items in your yard or bring in any Halloween decorations that might not be able to withstand those types of wind gusts. With high winds expected, downed trees and power outages will be likely.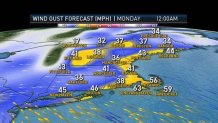 For our mariners, expect rough seas as waves build to 10 to 15 feet near shore, and 15 to 25 feet offshore.
Local
In-depth news coverage of the Greater Boston Area.
Speaking of Sunday, if you're heading to Gillette for the Pats game, you'll likely notice the wind start to pick up over the course of the day. By kickoff at 1 p.m. we could see some sprinkles, but it's likely the rain holds off in Foxboro until late in the game or even after the final play.
On top of all the rainfall over the last few days, we could see an additional 1 to 4 inches region-wide, with the heaviest rainfall in western New England through midday Monday.
The rain may even change to snow for higher elevations of New York and Vermont before it ends.
The system is out of here within 24 hours, but it will still be breezy for those Halloween festivities on Tuesday, and slightly cooler with high temperatures likely in the mid to upper 50s. By dusk, the temperatures will slip into the 40s and 30s for trick or treaters.