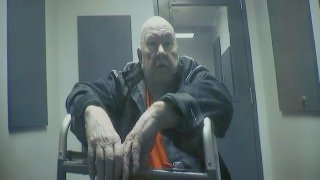 A hearing is scheduled for Tuesday morning on a motion to dismiss the case against Marvin "Skip" McClendon Jr., charged with killing an 11-year-old girl in Lawrence 35 years ago.
McClendon Jr., 75, of Alabama, was arrested last year and charged with fatally stabbing Melissa Ann Tremblay of Salem, New Hampshire, in September of 1988. The retired Massachusetts corrections officer has been held without bail since his arraignment in May of 2022, where he entered a not guilty plea.
Melissa Ann had accompanied her mother and her mother's boyfriend to the LaSalle Social Club in Lawrence, not far from the railyard, and went outside to play while the adults stayed inside, authorities have said. She was last seen by a railroad employee and a pizza delivery driver during the late afternoon hours.
Prosecutors said the state crime lab generated a DNA profile from Tremblay's body and was able to link it to McClendon.
McClendon's lawyers filed a motion to dismiss the case last year, saying the DNA evidence is "not sufficient" to support a first-degree murder indictment and it's possible the DNA belongs to another member of the McClendon family.
But prosecutors have argued that most of his family live in Alabama and have never been to Massachusetts. They also said McClendon Jr., who retired in 2002, had been living not far away in Chelmsford, and worked and attended church in Lawrence at the time of the killing.
He also owned a van that looked like one that witnesses saw Melissa Ann near on the day she disappeared, according to prosecutors.
The Associated Press contributed to this report.